Meta has finally rolled out one of its biggest feature updates for WhatsApp. In this article, you'll get to see all of it and how you can start using these really cool features on your mobile devices.
With the new Communities feature, WhatsApp groups can now be brought together under one roof.
It's going live today, and it's made so that updates can be sent to everyone in all groups at once, but smaller discussions can still happen within each group.
The feature has begun to roll out around the world, and everyone will be able to use it in the next few months.
WhatsApp Feature Update Announcement Video
Communities Feature
With the Communities feature, you can link multiple group chats together under one organizational umbrella. Do you have more than one family group chat with different people in it? Bring them all into the Family group. Having more than one work-related chat at once? Bring everyone into a company group.
The same end-to-end encryption that is used in existing chats and groups will still be used, so no one from the outside can see the old memes you send to your teenagers.
In a recent video, Mark Zuckerberg said that the update just "makes groups better."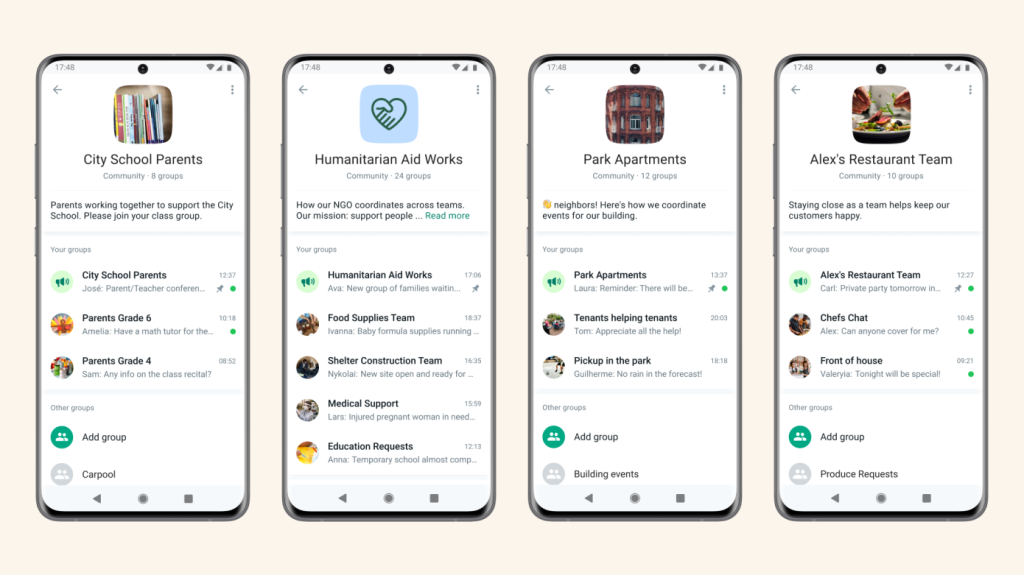 How do you build a group?

You should see a new "Communities" tab in WhatsApp. If you have an Android phone, it will be at the top of your chats. If you have an iPhone, it will be at the bottom.
From there, you can start a new community from scratch or use some of the groups you already have.
WhatsApp Polls Feature
Also, polls have been added, which makes the process of including people in groups much easier!!! You guys could easily put up a poll on an opinion or trending topic. In some cases, it could help your friends finally decide what to see at the movies this weekend.
WhatsApp 32-Person Video Chat
There will be room for up to 32 people on video calls. Previously, the 32-person calling function was only available for phone conversations, but now it now supports video calls, allowing you to connect with all 32 of your contacts at the same time. By implementing this functionality, WhatsApp hopes to compete with other video conferencing apps like Google Meet and Zoom.
Although it may appear that WhatsApp was a little sluggish to put out the capability of big group calling, which was in great demand during the COVID-19 epidemic, this feature is not there entirely, for the matter. Although it may appear that way, this feature was in high demand.
Other new features include larger file sharing, reactions, groups with up to 1,024 users, and shareable call links.